Hot Sales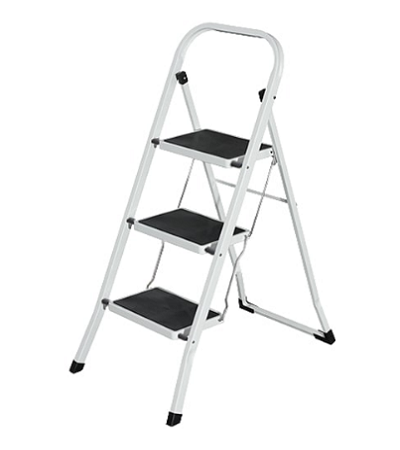 Wireking 3-step ladder makes the troubles easy to assemble and transport. It has a platform for more balance and a handy tool tray to put all the items you need within easy reach. It can also be used as a 4 and 6 foot ladder. It is a great choice for simple daily tasks, larger DIY projects, and even for professional use.
See More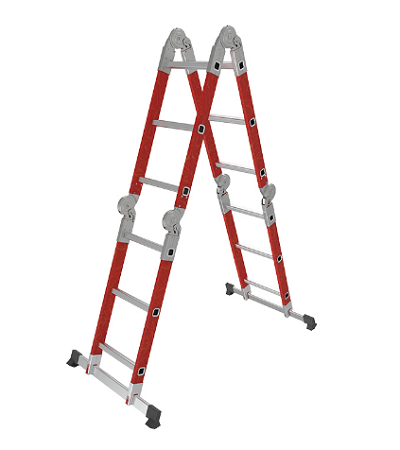 Fiberglass ladders are ideal for small jobs such as painting, trimming hedges, cleaning drains, and repairing fences or roofs. Due to its excellent weather resistance, it is more durable and durable than aluminum. You can expose the fiberglass ladder to sun or rain for several days without rusting or losing strength. Pair it with an aluminum railing or handrail system and you will be able to use it for many years to come.
See More
Do You Make Use OF Steel Ladder For Home Tasks ?

When you are working at home, one of the best investments that you can make is a steel ladder for home use. You will have it on hand when needed, and it will save you a lot of time and money in the long run. There are several advantages to investing in a steel ladder for home use. One, it will provide more safety because it is heavier than other ladders on the market.

Another advantage is that you can buy the ladder with specific uses in mind. If you are looking for something that you can use to reach a higher floor without the need for steps, this is the one for you. You will be able to install it and have it ready to go in no time. If you want to use it as a tool for climbing some stairs, you can also get one like this. It will come with different lengths depending on what you need it for and how much space you have available.

An aluminium ladder for home use is great if you have an attic or basement. This is one of the most valuable benefits because it will keep your family safe from all types of danger. Many people have had accidents in their homes that would have been much worse if they did not use a ladder. Injuries such as burns, cuts, or even suffocation can occur if there is not proper protection. Keep this in mind and use a ladder whenever you need to get in or out.

Using one of these ladders also saves you a lot of time because it is very easy to set up. You just have to hang it up where you need it to be and adjust the height accordingly. Even a child can do this quite easily so this is definitely one of the benefits of having one of these ladders around.

There is no doubt that using a steel ladder for home use is better than alternatives. There are many benefits but there are also a few downsides to consider as well. One thing that you will want to avoid is causing injury to yourself or your family members when setting up or taking down the ladder. Make sure that you have someone with you at all times that can help you use the ladder safely. It is always better to be safe than sorry and make sure you follow all the safety guidelines. If you take a little time to learn the proper procedure, you will end up with a very safe ladder that you can use whenever you need to.

When you are looking for a good steel ladder for home use, it is important to find one that is durable and strong. The ladder should be made from a very hard metal that is going to last for many years. This will mean that it will last longer and you do not have to be worried about having to replace it any time soon. When you do buy a new ladder, make sure that it comes with a warranty that will cover anything that happens to it while in your home.
Comparison Between Folding Aluminum Ladder And Wooden Ladder

The folding aluminium ladder is an excellent choice for your home and work because it offers the perfect balance between safety and aesthetics. It allows you to use it in awkward spaces, like corners and doorways where a regular ladder just wouldn't work. This type of ladder has come on leaps and bounds over recent years and is now getting more popular than ever before. In this article we're going to take a look at some of the benefits of this type of ladder and why it's better to use than a normal one.

Firstly we need to talk about the differences between a wooden ladder and an aluminium ladder. Wooden ladders are by far the most popular and come in many different types and styles - the usual types are built out of cedar and pine. Aluminium ladders are also very popular and are generally made out of high grade steel. Here are the main differences between these two types of ladders:

The biggest difference between these ladders is the fact that an aluminium ladder is made from a metal that is much lighter weight than cedar or pine woods. Also, the material is stronger than these two woods which also means that the actual weight of an aluminium ladder is less than a wooden one (it will be roughly double the weight of a wooden ladder). This means that an aluminium ladder is better able to cope with the strain of getting up and down and that it's easier to get into and out of. It's important to understand that in comparison, the strength of a fiberglass ladder isn't anywhere near as good so it is important that you use care when using an aluminium ladder as the damage that you can do to yourself can be severe!

Another difference between the two ladders is the thickness. An aluminium ladder is generally around half a cm thick which is actually a lot thinner than a wooden one. It also offers a much better grip on surfaces so it is better for getting into and out of bed and also for climbing stairs. Although these are minor differences, they can make a huge difference to how well you use your ladder so it's important that you consider them when buying one of these ladders.

As mentioned earlier, the main difference between these two types of ladders is their thickness which is around half a cm. As well as being a lot thinner, an aluminium ladder is also a lot lighter so it is better for use on lower floors (because you can get inside and out much easier!) and also works better on smooth surfaces such as concrete stairs. The reason why you would want to use an aluminium ladder over a wooden one is because the natural tendency for wood is to break because it is slippery when wet while the surface of an aluminium ladder is much more resistant. Also, if you have bad backs then the thicker surface of an aluminium ladder is an obvious choice because it will offer you a better support.

As you can see from this article, there are many advantages to buying a folding aluminium ladder rather than a wooden one. However, this doesn't mean that you should purchase the cheapest ladder you can find. Remember that these ladders cost a lot more than a wooden one so be careful what brand and design you decide to go with. You can even buy a used or refurbished version of these ladders at a fraction of the cost. So now you have to decide whether you should choose a folding aluminium ladder or a wooden one and go out and enjoy the benefits.
Pick Up A Right One From Fiberglass Or Aluminum Ladders

These are the two most common types of ladders, and they both have advantages and disadvantages. Choosing one over the other may depend on the purpose for which you plan to use the ladder. Let's take a look at the difference between fiberglass step ladders and aluminum ladders.

For one thing, the first difference is the strength. Fiberglass ladders to some extent is stronger than aluminum, and generally the latter is only second to the former. However, the grade of aluminum ladders is lower than that of fiberglass ladders, because if they exceed the grade, they are easy to bend.

Another difference between the two is the way they deal with the weather. For the materials, though the aluminum ladders have strong capability of resistance to bad weather, but fiberglass ladders are stonger than aluminum ladders. Additionally, fiberglass ladders are electrically resistant which means they are more secure around wires.

The fiberglass ladder will not lose its strength when it gets hot. They are actually very heat resistant, and aluminum ladders are weakened by heat. Aluminum step ladders are lighter than fiberglass ladders and are easier to transport. For those moving from job to job, this can be a more portable option. Last but not least, In the price aspect, Aluminium ladders is obviously cheaper than the fiberglass ladders. Although fiberglass ladders and aluminum ladders have their advantages, fiberglass ladders are often the best choice. However, if you need a lighter, more affordable ladder, Wireking aluminum ladders are best choice for you.
What Is Multi-purpose Folding Ladder ?

A multi-purpose folding ladder is an excellent tool for a range of purposes. This type of ladder is compact and can be easily stored away. The aluminum steps can fold inside the side rails and the entire unit telescopes to an almost flat-out position.

The foldable design of this product makes it convenient for storage. Its hinges are arranged 180 degrees in either direction, and the ladder extends rung-by-rung to the appropriate height. The sturdy aluminium construction and rubber feet ensure a comfortable grip while climbing. The overall design of the ladder is highly durable and offers a range of uses. In addition, the safety features ensure that the multi-purpose folding ladder is a safe and useful tool.

Another great feature of this multi-purpose folding ladder is that it can be folded into a small volumetric space when not in use. This allows you to access the top rung easily without having to move the ladder itself. The durable construction of the ladder is one of its most important advantages. It is lightweight and portable, and can be rolled or transported. The durable material makes it perfect for a range of purposes. Its durable design will make it a reliable choice in your home.

Another key feature of this folding multi-purpose ladder is that it can be stored anywhere even when not in use. When folded, the multi-purpose ladder is easy to move from one place to another. Its locking key between neighboring steps helps prevent accidental locking of the central hinge joint. Moreover, it features a durable frame and non-slip features. When buying a multi-purpose ladder, consider the above-mentioned tips to get the best value for your money.

Among the most important aspects of a multi-purpose folding ladder is its price. The price of a ladder is largely determined by the materials used and the extra features. Its price will determine its durability and quality, but other factors are also important. The build quality of the multi-purpose folding ladder will determine its cost. It is a lightweight and portable ladder, and can be transported anywhere. When folded, it can be stored easily.

Whether you need a ladder for work or play, a multi-purpose folding ladder can meet all of your needs. It can be folded for storage or used to access high places. It can reach a maximum of 300 lbs. Its dual-pin hinges provide stability and ease of use. A multi-purpose folding model has wheels for mobility. In addition to being portable, a multi-purpose folding ladder is also portable.
CONTACT US


Guangdong Wireking Household Products Co., Ltd.
We are always providing our customers with reliable products and considerate services.
If you would like to keep touch with us directly, please go to contact us