Hot Sales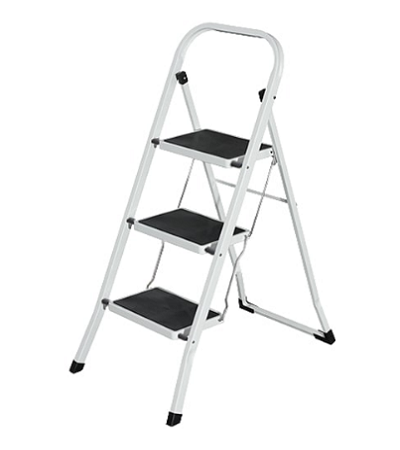 Wireking 3-step ladder makes the troubles easy to assemble and transport. It has a platform for more balance and a handy tool tray to put all the items you need within easy reach. It can also be used as a 4 and 6 foot ladder. It is a great choice for simple daily tasks, larger DIY projects, and even for professional use.
See More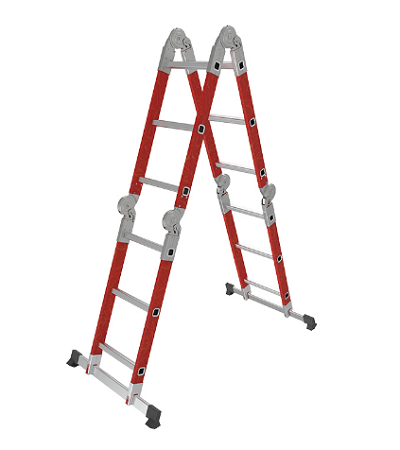 Fiberglass ladders are ideal for small jobs such as painting, trimming hedges, cleaning drains, and repairing fences or roofs. Due to its excellent weather resistance, it is more durable and durable than aluminum. You can expose the fiberglass ladder to sun or rain for several days without rusting or losing strength. Pair it with an aluminum railing or handrail system and you will be able to use it for many years to come.
See More
How The Aluminium Ladder Made From ?

The aluminium ladder is made up of several different materials, each with its own advantages and disadvantages. It is very important to choose a ladder that is suitable for the specific type of job or application you are involved in. The most common materials used to make ladders are aluminum, fiberglass, and wood.

Aluminum is a light weight and extremely durable material. Compared with fiberglass, the price of aluminum is cheaper, and the cost of fiberglass can be double. One of the advantages of these ladders is their light weight, which means that aluminum ladders are very easy to transport, install and remove for one person. This can be very important when certain tasks involve moving ladders to different places (including climbing stairs and long distances). Another advantage of aluminum ladders is their resistance to different weather conditions. Unlike some other metals, aluminum is not prone to rust or corrosion, so it requires almost no maintenance. Aluminum and fiberglass ladders also have many safety features, such as non-slip platforms and non-slip feet and pedals.

Fiberglass is a reinforced plastic material composed of fiberglass embedded in resin, which makes it strong but fragile under stress. It is easy to clean which can be a factor if you are working in an environment where hygiene is important. Fiberglass is not conductive, so it is not affected by extreme temperatures, if you use electricity for work, you can use it safely. Fiberglass ladders are available in bright colors, so another safety benefit is their high visibility.

The available wood models are limited and can be difficult to store and transport. Wooden ladders tend to degrade much faster than aluminum ladders due to moisture and normal wear and tear, and they need to be painted regularly to keep them in good working order. Fiberglass and wood ladders are often bulky and inconvenient to transport, even over short distances

The manufacturing process involved in production is higher than that of the multi-purpose folding ladders made of other materials. If aluminum ladders are suitable for the demands of your job, then their considerable advantages outweigh any other product, and it is also your best choice in terms of cost.
6 Step Aluminium Ladder Plays Greay Role In Daily Needs

Wireking 6 step aluminium ladder is a versatile tool for home and business owners. Its lightweight construction and durable material make it a perfect choice for most indoor and outdoor tasks. The 6-foot model is a great choice for reaching high cabinets, changing light bulbs, and more. It also has a platform that fits an extension ladder and a molded paint roller tray. The steps are traction-tred, which makes it easy to climb and control.

The aluminium ladder is built from a strong aluminum alloy and is suitable for every home or office. Its non-skid ribbed steps are designed to be safe for people to use. Aside from a non-skid top surface, this ladder also has a built-in knee guard and an edge protector to protect you from slipping. A 6-step, sturdy aluminum ladder is one of the most versatile tools you can buy.

The 6 step aluminium ladder is constructed from high-quality aluminum that is resistant to rust and corrosion. The material of steel folding ladder is lightweight and durable and can be used outdoors without worry about fading. In addition to the strength and durability, it is also cost-effective. The most important feature of a 6 step aluminium ladder is its ease of use. The six steps make it easy to access high places. There are several types of aluminum ladders to fit your needs, including telescopic, multi-purpose, and folding types.

An aluminium ladder is lightweight and very handy. The aluminum is resistant to rust and corrosion, making it ideal for outdoor use. Its lightweight weight and durability are advantages to people who don't have a lot of space for a ladder. This makes it a good option for outdoor use, if you'd like to use it frequently. An aluminium folding ladder is a sturdy, versatile tool for home and business use.

A 6 step aluminium ladder is made of high-grade aluminum, making it strong and durable. It can be used for outdoor or indoor use. Some models have platforms at the top to aid in work at heights. There are also models that are wall-mounted, so you don't have to install it yourself. This is a great solution for those who don't have a lot of space. You can also purchase a wall-mounted model if it's easier to move the ladder around.

6 step aluminium ladder is lightweight and durable. It's also easy to store and transport, thanks to its anti-corrosion coating and honey-comb technology. The 6 step version from Champion is one of the best-selling models, and it's a good choice for your home or business. It's a durable and affordable option for outdoor use, and the quality is very impressive. It can be used outdoors.
Aluminium 3 Step Ladder Functions In Life

Wireking aluminium 3 step ladder is a safe, reliable, and convenient product for many applications. Its frame is constructed from aircraft-grade aluminum and features non-marring feet and a handle for easy transportation. You can use this step stool for different tasks, such as trimming a live fence, repairing a window glass, and cleaning the living room wall. It can also be used for decorative purposes, such as resting on it while arranging a small flower vessel.

This aluminium 3 step ladder is made of durable aluminium that weighs only 15 pounds. It has wide, broad steps and a perfect addition to any home, office, or garage, the Delxo is easy to transport, folds easily, and provides excellent value for money. The aluminium alloy construction makes it safe to use for a variety of tasks, including climbing and moving furniture.

The aluminium 3 step ladder is lightweight yet sturdy, supporting up to 330 pounds. Its metal locks and curved handgrip make it easy to use and move around. The ladder's swivels can be used for shelving items. Its wide, angled steps increase foot support and grip. It is portable and folds easily for storage. In addition, it has a sturdy metal frame that meets strict safety standards.

Due to it is made of durable aluminum and is ideal for both residential and commercial use. It can support up to 300 pounds. It is also lightweight, and can be folded for storage. Wireking 3 step ladder is perfect for indoor and outdoor tasks. It is designed for a wide range of uses, and can be used for creative tasks. Its folding design makes it easy to store, and it is made of durable, lightweight aluminum. Its aluminum construction makes it a strong and stable product.
Multifunctions of 5 Step Aluminium Ladder

Wireking 5 step aluminium ladder is a versatile ladder that is suitable for use in various situations. It is lightweight, foldable, and safe to use. The aluminium frame provides a high degree of stability. It can support up to 150 kg of weight. It has an ergonomic design to provide support while standing or working. The product is made in Holland. You can use it in different places, including garages, workshops, and homes.

It is lightweight and has double channel braces and molded vinyl foot pads. It is perfect for outdoor and indoor applications. This ladder is ideal for a variety of uses. It can be extended to a higher level, making it a handy option for roofs and other high places. The ladders can also be used for other purposes, such as gardening. You can even hire a professional to install it for you. Once you've purchased it, you should take care of it to avoid any mishaps.

Unlike extension ladders, stepladders can be extended. You can use them to reach high places, including gutters, roofs, and trees. Moreover, you can also use the ladder to reach the attic, which is an ideal place for work and play. 5 step aluminium ladder is the ideal choice for construction workers and DIY enthusiasts. It can be extended up to 15 feet. Aside from being lightweight, it also features dual-purpose functionality. These are useful for both indoor and outdoor applications.

Our ladders are also very useful for landscaping and for general home use. If you are planning to paint your house, the best place to install a 5 step aluminium ladder is the attic. A professional can install the ladder on your roof and provide support for you in your project. Its safety features are essential for any type of home or construction project. You can hire a professional to install it for you if you are unsure about how to install it yourself.
SERIOUS ABOUT SAFETY, even the simplest, everyday tool can be dangerous when misused. Although seemingly harmless, there is an everyday tool on our job sites and sitting in our garages that causes more deaths than sharks, tigers, chainsaws and even plane crashes combined – ladders.
Guangdong Wireking Household Products Co., Ltd. was founded in 2008 and has more than 10 years of experience in production and sales of steel and aluminum ladder. Users' safety is our first priority. Our production is subject to the most stringent quality and safety controls. Our products are examined and certified by international testing institutions in TÜV Rheinland and TÜV SÜD, etc. Due to a creative and engaged back office team as well as extensive services including professional project service Wireking is a strong and reliable partner for its customers.
We have some suggestion for you choosing the ladders. What kind of ladder is fit to you ?
Carrying heavy ladders, especially over long periods of time, puts a strain on your body, commonly causing injuries to your back, neck and shoulders.
A lightweight, easily transportable ladder. Wireking engineers its ladders to be the lightest industrial-grade ladders in the world. Using materials like aluminum and fiberglass, you can count on your ladder to be light enough to transport, yet sturdy enough to rely on. Additionally, many of ladders come with wheels or wheel-lift casters that make transportation even easier.
Every job site has differing terrain and your ladder should match the terrain of the site. You wouldn't use a small step stool to reach a high ceiling, and you wouldn't use a 20' extension ladder to reach a standard door-frame.
If you're dealing with unlevel ground, you need a ladder with leg levelers. Working around electricity? You need a non-conductive fiberglass ladder. High ceilings? You need a ladder that allows you to reach your work.
Having the right ladder for the task at hand isn't enough if you don't know how to use it properly. There's a right and wrong way to use every ladder. Knowing the right way to use the ladder could mean all the difference to your safety.
Proper training. Whenever you work with a new ladder, it is important to take the time to familiarize yourself with it, so you can work safely and without incident. Wireking frequently publishes safety content on our site, YouTube and on our social media outlets.
When working on a ladder, you want to be able to fully face your work, rather than twisting or working at an angle. With the wrong ladder, this inevitably leads to unsafe ladder usage.
You need a ladder that lets you face your work with ease. Get closer to your work with one of our leaning ladders. Many of our multi-position ladders can be set up in 90-degree configurations, so you can face your work head-on; and if you want to be extra comfortable while facing your work, use one of our stepladders with a standing platform.
When you're at the top of a ladder and something is out of reach, the natural inclination is to overreach, rather than climb down and reset the ladder. However, overreaching causes ladders to shift and destabilize. A fall like this, especially from an extension ladder, is the leading cause of ladder-related fatalities.
Increased side-tip stability. Many of our ladders have a wide-flared base or deployable outriggers that keep your ladder centered. With alternative climbing solutions, you can safely work at heights in a fully enclosed platform without needing to tie-off.
Ladder is related to the safety. Different markets has different ladder standard. That is much important for users. For European standards, normally, for step stool, which the vertical height from the top step to the floor is less than 100cm. It used the standard named EN14183. And more than 100cm, it should be use EN131.
More Details ABout Wireking Aluminium Ladder
What The Different Standards In Ladder ?
Firstly, you must know the European standard. This European Standard exists in three official versions (English, French, German). A version in any other language made by translation under the responsibility of a CEN member into its own language and notified to the Management Centre has the same status as the official versions. CEN members are the national standards bodies of Austria, Belgium, Czech Republic, Denmark, Finland, France, Germany, Greece, Hungary, Iceland, Ireland, Italy, Luxembourg, Malta, Netherlands, Norway, Portugal, Slovakia, Spain, Sweden, Switzerland.
This European Standard specifies the requirements for step stools, stairtype steps and dometype steps stools. This includes design characteristics, dimensions, materials, performance requirements, test methods and the declaration of suitability of use. The standard excludes ladders and stepladders as defined by EN 131-1:1993. The requirements are based upon the maximum total load of 150 kg.
Here is the definition.
Step stool: stool with a seat or platform designed for sitting and standing on which also incorporates one or more steps.
Stair type steps: structure with deep steps and shallow climbing angle.
Dome type step stool: structure ascendable from two or more sides with a platform and with or without an intermediate step.
Design requirement for the EN14183 step stool.
1. Rollers and wheels
Where rollers or wheels are fitted, step stools and rigid steps shall be designed so as to prevent any accidental displacement when loaded. Rollers shall either be automatically locked or automatically disabled once the step stool or rigid steps are loaded.
2. Opening restraint and compression security devices
Step stools and stair type steps shall be prevented from unintended folding when deployed for use.
3. Finger traps (shearing points) shall be avoided as far as possible. All connections shall be durable and have a strength corresponding to the strain. The connections shall be designed in a manner that arising notch tensions remain low. Screws and nuts shall be secured against self-acting slackening, e. g. by means of safety devices with a blocking effect or being positive.
4. Surface finish.
In order to avoid injuries, accessible edges, corners, and protruding parts shall be free of burrs, chamfered or rounded.Metal parts susceptible to corrosion shall be protected by means of a paint coating or other coating. Under normal conditions aluminium alloy products are not likely to corrode and need no protection. If wooden parts are coated, the coating shall be transparent and permeable to water vapour.
5. Hinges (turning points) .
Hinges shall connect the legs of the step stool durably. Hinges shall be designed in such a manner that no abutment of the step stool parts over the hinges is formed during use of the step stool. The hinge pin shall be secured against unintentional loosening. The diameter of steel hinge pins shall not be less than 5,0 mm or screw M 6. Pins of other materials shall have at least the same strength. If the pin has several shearing points (piano hinge) there is no restriction as to the hinge pin diameter.
6. Padding
An assembled seat may have padding, which shall not exceed a thickness of 20 mm in an unloaded state.
7. Parts made of steel shall have a thickness of at least 0,90 mm.
European Standard Specifications
This european standard specifies the general design features, requirements and test methods for portable ladders. It does not apply to step stools or ladders for specific professional use such as fire brigade ladders, roof ladders and mobile ladders. It does not apply to ladders used for work on near live electrical systems or installations. For this purpose EN 61478 applies. NOTE For insulating ladders for use on or near low voltage electrical installations in the range below 1000 V a.c. or 1500 V d.c. EN 50528 is under preparation. This European Standard is intended to be used in conjunction with EN 131-1. For single or multiple hinge joint ladders EN 131-4 applies.
Max loading capacity
The requirements are based upon a maximum total load of 150 kg. Ladders are determined to be used by one person at a time but this excludes any person footing (stabilising) the ladder.
Material thickness
All load bearing parts made of aluminium alloy shall have a thickness of at least 1,2 mm.
All load bearing parts made of steel shall have a thickness of at least 1,0 mm.
The minimum thickness for load-bearing elements made of thermoset plastics and composite material is 2 mm.
Design requirement
The design shall seek to minimize the existence of shearing and squeeze points and where they do exist to minimize the shearing and squeezing effects as far as practicable.
Connections should be designed in a manner that arising notch tensions remain low.
Screws and nuts shall be secured against loosening, e.g. by means of self-locking or mechanically locked safety devices.
Welding of joints is permitted if welding procedures and welding personnel are suitable.
In order to avoid injuries, accessible edges, corners, and protruding parts shall be free of burrs, for example chamfered or rounded.
Metal parts susceptible to corrosion shall be protected by means of a paint coating or other coating. Under normal conditions aluminium alloys are not susceptible to corrosion.
The legs of the standing ladders shall be prevented from opening beyond the normal use configuration by means of opening restraints. If chains are used, all chain links with the exception of the first and the last one shall be free to move.
Rungs, steps made of metal or plastics shall have a textured surface on the working face to reduce slipping. The contact surface of the coverings shall adhere firmly to the rungs or steps.
Rungs and steps shall be firmly and durably connected to the stiles.
Round rungs shall have a diameter greater than or equal to 25 mm. The top surface of flat standing surfaces shall have an angle less than or equal to 25° to the horizontal. For leaning ladders the angle related to the stile shall be 65° to 90° for rungs and 60° to 70° for steps.
Bottom ends of the ladder shall be slip resistant.
Extending and sectional ladders requirement.
The ladder parts of push-up extension ladders shall be secured from unintentional closing and separation in the position of use.
All sectional and extending ladders shall be fitted with a locking device to keep the ladders hooks engaged on the rung during use. It is the choice of the manufacturer whether the operation of the locking device is manual or automatic. The locking device shall be capable of supporting the weight of the lower parts of the ladder.
During use of the ladder the rungs overlapping one another shall be in the same plane perpendicular to the stiles or in one horizontal plane or in any other plane between these.
Provision of user instruction
The producer shall be responsible for the content of the user instructions and the provision of the instructions with each ladder.
The distributor should ensure that the user instructions are provided with each ladder.
The ladder owner should ensure that the user instructions are available to the user.
The instructions shall be in the language of the country where the ladder is sold.
Before use
a) Ensure that you are fit enough to use a ladder. Certain medical conditions or medication, alcohol or drug abuse could make ladder use unsafe;
b) When transporting ladders on roof bars or in a truck, ensure they are suitably placed to prevent damage;
c) Inspect the ladder after delivery and before first use to confirm condition and operation of all parts;
d) Visually check the ladder is not damaged and is safe to use at the start of each working day when the ladder is to be used;
e) For professional users regular periodic inspection is required;
f) Ensure the ladder is suitable for the task;
g) Do not use a damaged ladder;
h) Remove any contamination from the ladder, such as wet paint, mud, oil or snow;
i) Before using a ladder at work a risk assessment should be carried out respecting the legislation in the country of use.
Positioning and erecting the ladder
a) Ladder shall be erected at the correct position, such as the correct angle for a leaning ladder (angle of inclination approximately 1:4) with the rungs or treads level and complete opening of a standing ladder;
b) Locking devices, if fitted, shall be fully secured before use;
c) Ladder shall be on an even, level and unmoveable base;
d) Leaning ladder should lean against a flat non-fragile surface and should be secured before use, e.g. tied or use of a suitable stability device;
e) Ladder shall never be repositioned from above;
f) When positioning the ladder take into account risk of collision with the ladder e.g. from pedestrians, vehicles or doors. Secure doors (not fire exits) and windows where possible in the work area;
g) Identify any electrical risks in the work area, such as overhead lines or other exposed electrical equipment;
h) Ladder shall be stood on its feet, not the rungs or steps;
i) Ladders shall not be positioned on slippery surfaces (such as ice, shiny surfaces or significantly contami- nated solid surfaces) unless additional effective measures are taken to prevent the ladder slipping or ensuring contaminated surfaces are sufficiently clean.
Using the ladder
a) Do not exceed the maximum total load for the type of ladder;
b) Do not overreach; user should keep their belt buckle (navel) inside the stiles and both feet on the same step/rung throughout the task;
c) Do not step off a leaning ladder at a higher level without additional security, such as tying off or use of a suitable stability device;
d) Do not use standing ladders for access to another level;
e) Do not stand on the top three steps/rungs of a leaning ladder;
f) Do not stand on the top two steps/rungs of a standing ladder without a platform and hand/knee rail;
g) Do not stand on the top four steps/rungs of a standing ladder with an extending ladder at the top;
h) Ladders should only be used for light work of short duration;
i) Use non-conductive ladders for unavoidable live electrical work;
j) Do not use the ladder outside in adverse weather conditions, such as strong wind;
k) Take precautions against children playing on the ladder;
l) Secure doors (not fire exits) and windows where possible in the work area;
m) Face the ladder when ascending and descending;
n) Keep a secure grip on the ladder when ascending and descending;
o) Do not use the ladder as a bridge;
p) Wear suitable footwear when climbing a ladder;
q) Avoid excessive side loadings e.g. drilling brick and concrete;
r) Do not spend long periods on a ladder without regular breaks (tiredness is a risk);
s) Leaning ladders used for access to a higher level should be extended at least 1 m above the landing point;
t) Equipment carried while using a ladder should be light and easy to handle;
u) Avoid work that imposes a sideways load on standing ladders, such as side-on drilling through solid materials (e.g. brick or concrete);
v) Maintain a handhold whilst working from a ladder or take additional safety precautions if you cannot.
Repair, maintenance an storage
Repairs and maintenance shall be carried out by a competent person and be in accordance with the producer`s instructions. Ladder should be stored in the accordance with the producers`s instructions.
Netherlands Standards For Ladders
The Netherlands extra standard requirement
In the Netherlands all ladders and step ladders for both the consumer market and the professional market have to fulfill the requirement of the Besluit Draagbaar Klimmaterieel(law on portable climbing equipment). which is part of the Dutch"Warenwet"(law for goods). On top of that products for the professional market have to fulfill the requirement of the NEN 2484 as is mentioned in the "Arbobeleidsregels", that are part of the Dutch Arbowet(law for labour conditions.)
Section 1
1.The distance between the steps or rungs, or between the steps or rungs and the platform or stand, must be equal, subject to a tolerance of +/- 10mm.
2.The length of the steps or rungs, measured between the uprights or stiles, must be at least 300mm.
Section 2
1 the distance between the lowest step or rung and the lower end of the upright or stile must not exceed the distance referred to in Section 1(1), subject to a tolerance of +15mm, and must be at least one-half of the distance.
Section 3
If the portable climbing equipment is provided with a platform which can be used for standing on, that platform must be provided with a support shoe, of which the vertical projection of the side providing the support must not protrude from the platform, and the vertical distance, measured between the platform and support shoe, must be at least 600mm.
Section 4
If the portable climbing equipment is provided with a platform, that platform may protrude no more than 30 mm from the hindmost support and 10mm from the front support. However, if a step or rung is used instead of a platform, the front of that step or rung may not protrude from that plane. [This section is ungrammatical and unclear-translator].
1. Both the upper side of the steps or rungs and of the platform and the lower side of the stiles or uprights of the portable climbing equipment must be sufficiently rough (Non-slip).
Section 5
2. The outside width of one or both basic parts of portable climbing material which is designed, inter alia, to be free-standing, measured on the lower side, must be at least equal to the inside width at the height of the top step or rung or of the platform, plus, in the case of potable climbing equipment of the type referred to in point 9 of NEN 34221 of June 1969 and NEN 34232 of December 1971, the following:
a.Double reform ladder: at least 17.5% of the length of the pole or stile, measured from the foot to the pivot;
b.Triple reform ladder: as under a.
c.Quadruple reform ladder: at least 12.5% of the length of the upright or stile, measured from the foot to the pivot. This extension to the width must be applied at both ends.
3.For all other portable climbing equipment intended to be used free-standing, the extension to the width of the base referred to in subsection 2 must be at least 12.5% of the upright or stile, measured from the foot to the pivot.
Section 6
Portable climbing equipment comprising two or more climbing parts which can be used in either extended or open mode, must be constructed in such a way that the angle at which the climbing parts can stand is limited and that the equipment, when fully extended, has a resistance to bending which is at least equal to the that required for single ladders of the same length.
Section 7
Extendable portable climbing equipment within the measuring of Section 6 which is fitted with an extension rope must be constructed in such a way that if the user lets go of the rope, or if it breaks, the lowest raised part of the ladder cannot fall by more than one rung or step. The rope must have a diameter of at least 8mm and be able to withstand a tractive force at least 4000N.
Section 8
This regulation may be cited as the "Regulation laying down detailed requirements for portable climbing equipment (Commodities Act)".
Explanatory Note
This Regulation lays down detailed requirements for portable climbing equipment. Not specific requirements have been laid down for plastic parts as yet because it is not yet possible to prescribe effective methods of compliance testing. This does not detract from the fact that, for example, the effects which the ageing of the plastics used has on the strength of such parts must be taken into account in the design of portable climbing equipment in according with Section 2(1) of the portable Climbing Equipment Decree(Commodities Act).
CONTACT US


Guangdong Wireking Household Products Co., Ltd.
We are always providing our customers with reliable products and considerate services.
If you would like to keep touch with us directly, please go to contact us